Professor Richard Gearry (Professor of Medicine at the University of Otago, Christchurch and also a Medical Advisor to Crohn's and Colitis New Zealand) has put together this video for World IBD Day.
www.ioibd.org is an International Organisation for the Study of Inflammatory Bowel Diseases. The mission of the IOIBD is to promote the health of people with IBD worldwide by setting the direction for patient care, education and research.
www.covidibd.org is an international, pediatric and adult database to monitor and report on outcomes of COVID-19 occurring in IBD patients. We encourage IBD clinicians worldwide to report ALL cases of COVID-19 in their IBD patients, regardless of severity. With the collaboration of the entire IBD community, they will rapidly be able to define the impact of COVID-19 on patients with IBD and how factors such as age, comorbidities, and IBD treatments impact COVID outcomes.
In this global pandemic, IBD patients and their healthcare providers from around the world share similar fears and concerns. SECURE-IBD is an international database to monitor and report on COVID-19 in IBD patients. By working across borders, we are learning how factors like age, and IBD treatments impact COVID-19 outcomes.
This effort is rapidly providing answers to the most important questions from patients and providers.
Here is some of what we've learned:
**Those over the age of 60 have been reported to have more serious complications and outcomes relating to COVID-19.
**Oral steroid use continues to be the largest medications-associated risk factor.
**Many IBD medications, including anti-TNF biologics and other, appear to be safe.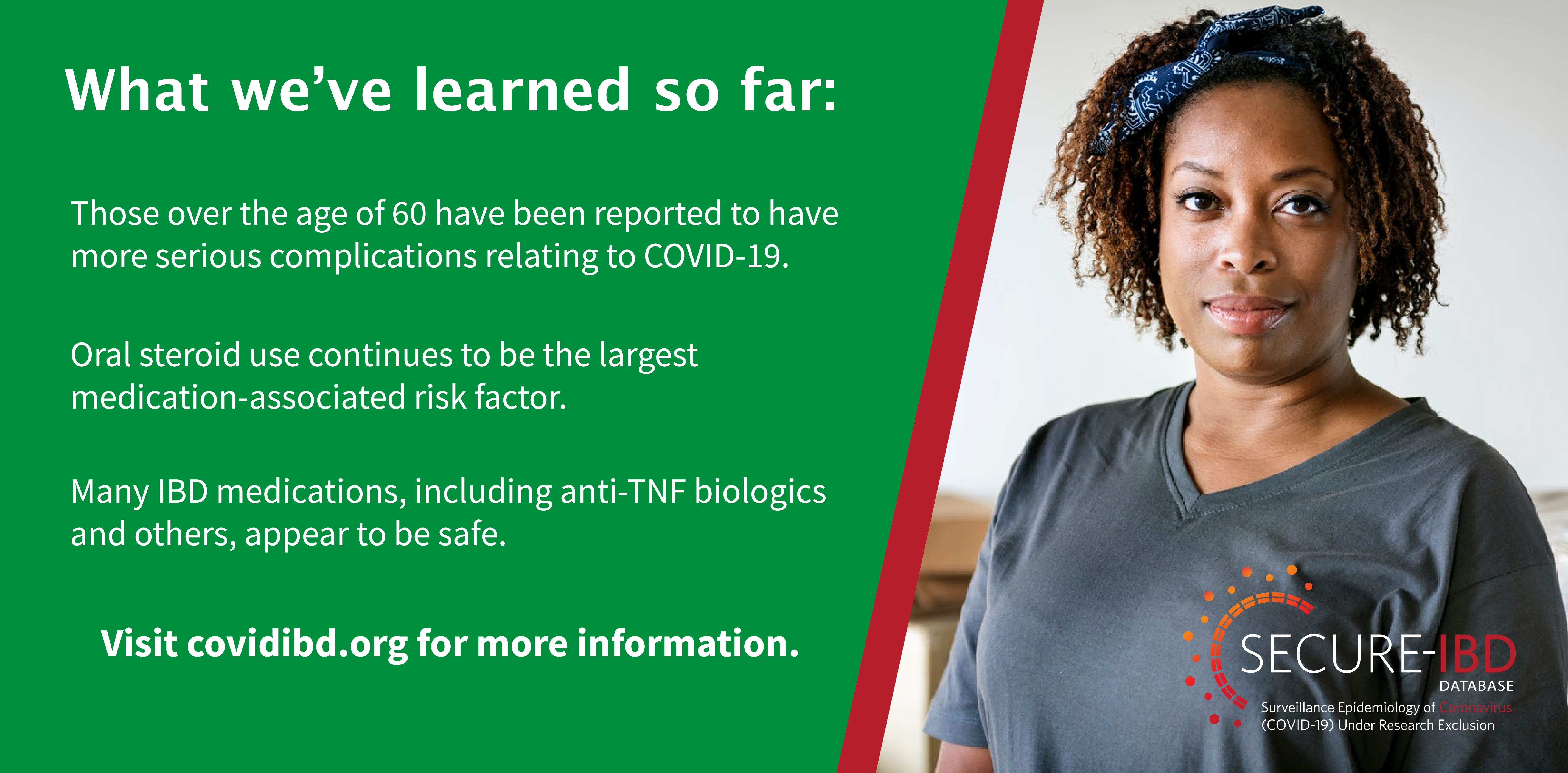 .