OUR PARTICIPATING I CAN'T WAIT BUSINESSES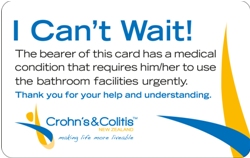 CCNZ appreciates and thanks the business community for all their support.

Information for Businesses
Placing a CCNZ sticker in the window of your business that you recognise the "I Can't Wait" card can truly change lives.
Honouring the card allows people with Crohn's disease, ulcerative colitis and other medical condition to use your facilities in the event a cardholder needs one urgently.
This simple act of kindness gives people with medical conditions the confidence to leave home without the fear of having an accident in public. It gives them the opportunity to do what most of us take for granted: the opportunity to leave home, to shop, to meets friends, and to live a normal life.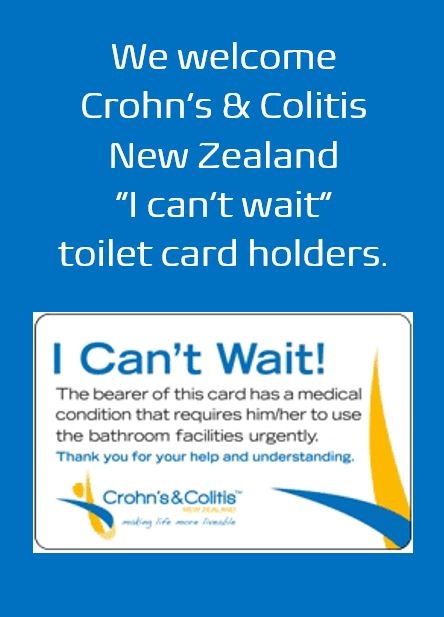 Holders of the "I Can't Wait" card have gone through the process of applying for the card which requires their doctor's documentation that they have a condition for which the card is necessary.
CCNZ recognises and publicises participating business on our webpage and social media platforms. Let people know that your business is making a difference in the lives of members of your community.

For more information please email us.
Want to know what to do if someone presents this card to you? Download our educational sheet here.
NORTH ISLAND
Northland
Central Auckland

College Hill Doctors, 46 College Hill, Freeman's Bay, Auckland

House of Travel Ponsonby, Three Lamps, 340 Ponsonby Road, Auckland

The Birdcage Tavern, 133 Franklin Rd, Freemans Bay, Auckland 1011

Zack's Bar,421 Parnell Rd, Parnell, Auckland 1052

East Auckland

C.R. Kennedy (NZ) Ltd,3 Hotunui Drive, Mt. Wellington, Auckland

National Storage Ellerslie,614-616 Great South Road, Ellerslie, Auckland (Hours: 8am-5pm Mon to Fri, and 9am-2pm Saturday's)

North Auckland

Business North Harbour, 12 Parkway Drive, North Harbour

National Storage Albany, 86 Don McKinnon Drive, Albany, Auckland (Hours: 8am-5pm Mon to Fri, and 9am-2pm Saturday's)

National Storage Silverdale, 7-9 Foundry Road, Silverdale, Auckland 0932 (Hours: 8am-5pm Mon to Fri, and 9am-2pm Saturday's)

Paradox Books, 9/26 Victoria Rd, Devonport, Auckland 0624

The Beer Spot, 54 Northcote Road, Takapuna, Auckland 0627

South Auckland

Grahams Funeral Services - Pukekohe, 31 West Street, Pukekohe 2120

Grahams Funeral Services - Tuakau, West Street, Tuakau 2121

Grahams Funeral Services - Waiuku, 37 Kitchener Rd, Waiuku 2123

Grahams Monumental Services, 54 George Street, Tuakau

Manurewa Public Library, 7 Hill Rd, Manurewa

National Storage Manukau, 607 Great South Road, Manukau (Hours: 8am-5pm Mon to Fri, and 9am-2pm Saturday's)

National Storage Pukekohe, 518 Buckland Road, Buckland, Pukekohe 2120 (Hours: 8am-5pm Mon to Fri, and 9am-2pm Saturday's)

National Storage Wiri, 7 Ha Crescent, Wiri, Auckland 2104 (Hours: 8am-5pm Mon to Fri, and 9am-2pm Saturday's)

Pukekohe Business Association, 217 King Street, Pukekohe

West Auckland

Boulder Co. Climbing + Fitness, 33-47 Northside Drive, Westgate, Auckland 0814

Kumeu Dental, 88 Main Rd, Kumeu, Auckland 0810

MP for Kaipara Ki Mahurangi, National Party Office, 365 Main Rd, Huapai

National Storage Henderson, 251 Lincoln Road, Henderson, Auckland (Hours: 8am-5pm Mon to Fri, and 9am-2pm Saturday's)

NZ Seafoods, 20B Portage Road, New Lynn, Auckland 0600
Waikato
National Storage Dinsdale, 41 Higgins Road, Hamilton 3204 (Hours: 8am-5pm Mon to Fri, and 9am-2pm Saturday's)

National Storage Frankton CBD, 115- Kent Street, Hamilton 3204 (Hours: 8am-5pm Mon to Fri, and 9am-2pm Saturday's)

National Storage Frankton South, 176 Ellis Street, Hamilton 3204 (Hours: 8am-5pm Mon to Fri, and 9am-2pm Saturday's)

National Storage Pukete, 97 Maui Street, Hamilton 3200 (Hours: 8am-5pm Mon to Fri, and 9am-2pm Saturday's)

Snap Fitness Te Awamutu, 107 George Street, Te Awamutu 3800

Te Awamutu Medical Centre, 220 Bank Street, Te Awamutu 3800

The Event Girl, 93 B Mannering Street, Tokoroa
Bay of Plenty
Rotorua

Bay of Plenty Regional Council Office, Cnr Fenton and Pukaki Street, Rotorua

National Storage Fairy Springs, 416 Ngongotaha Road, Fairy Springs, Rotorua 3015 (Hours: 8am-5pm Mon to Fri, and 9am-2pm Saturday's)

National Storage Rotorua Airport, 123-63 Katoro Drive, Owhata, Rotorua (Hours: 8am-5pm Mon to Fri, and 9am-2pm Saturday's)

National Storage Rotorua Central, 10 Railway Road, Mangakakahi, Rotorua (Hours: 8am-5pm Mon to Fri, and 9am-2pm Saturday's)

Tauranga

Bay of Plenty Regional Council Office, 1 Elizabeth Street, Tauranga

National Storage Tauranga, 6 Hutton Place, Mt Maunganui, Tauranga 3116 (Hours: 8am-5pm Mon to Fri, and 9am-2pm Saturday's)

Waihi

Hickson Motors Limited,11a Baber Street, Waihi

Whakatāne

Bay of Plenty Regional Council Office, 5 Quay Street, Whakatāne
Gisborne
Hawkes Bay
Bay View Volunteer Fire Brigade, 6 Petane Road, Bay View, Napier

Eskdale School, 324 Hill Road, Bay View, Napier 4182

Hurford Parker Insurance & Mortgage Brokers, 106 Lyndon Road West, St Leonards, Hastings 4122

Margaret's Alterations, 103 Wellesley Road, Napier 4110

Wassco Engineering, 1029 Manchester Street, Hastings 4120 - Opening hours 8:00 To 4:30, Mon - Fri
Taranaki
Manawatu / Whanganui
Kapiti Coast

Levin

Palmerston North
Wairarapa
Carterton

Masterton

South Wairarapa District

Tararua District
Wellington Region
Lower Hutt

Alliance Fire & Security, 25 Peterkin Street, Taita, Lower Hutt

Atrium, 215 High Street, Lower Hutt

Buzz Café Restaurant, 101 High St, Southend, Lower Hutt

Citizens Advice Bureau, Ground Floor, Corner of Queens Dr & Laings Rd, Lower Hutt

Clive's Chemist, 20-21 Queen Street, Wainuiomata, Lower Hutt 5014

Digital and Data Recovery NZ, 315 B Maungaraki Rd, Maungaraki

Earthlink Incorporated, 25 Peterkin Street, Taita 5019

Gibson Sheat Lawyers, I margaret Street, Lower Hutt

Huha Vet Clinic, 13 George Street, Stoke Valley, Lower Hutt

Imperial Inc NZ, 168 Taita Drive, Avalon, Lower Hutt

Motomart, 7 Rutherford Street, Hutt Central, Lower Hutt 5010

National Storage Boulcott, 61 Connolly Street, Boulcott, Lower Hutt 5010 (Hours: 8am-5pm Mon to Fri, and 9am-2pm Saturday's)

National Storage Taita, 111 Eastern Hutt Road, Taita, Lower Hutt 5019 (Hours: 8am-5pm Mon to Fri, and 9am-2pm Saturday's)

Oxygen Property Management, 3 Cornwall Street, Lower Hutt

Playcentre Aotearoa - Lower North Island Region, 101 Trafalgar St, Waterloo, Lower Hutt

Professionals, Redcoats Ltd, 28 Cornwall Street, Lower Hutt

Schrödinger's Books, 137 Jackson Street, Petone

Shazly Experience Hair and Wellness, 2/151 High Street, Lower Hutt (Entrance on Andrews Ave)

St Paul's Anglican Church, Waiwhetu, 76 Waiwhetu Rd, Lower Hutt 5011

Porirua

National Storage Kenepuru, 1 Broken Hill Road, Kenepuru, Porirua 5022 (Hours: 8am-5pm Mon to Fri, and 9am-2pm Saturday's)

Pure Science Ltd, 2/33 Ulric Street, Plimmerton, Porirua

Upper Hutt

Alquimia, 44 Dowling Grove, Upper Hutt 5019

Blundell and Mark Realty, Professionals REAA 2008, 5 Gibbons Street Upper Hutt, Upper Hutt 5140

Mayfair Cafe & The BoileRoom, 116 Main Street, Upper Hutt 5018

Silbery Roofing Upperhutt, 69 Montgomery Crescent, Clouston Park, Upper Hutt 5018

Te Kaunihera o Te Awa Kairangi ki Uta, Upper Hutt City Council, 838-842 Fergusson Drive, Upper Hutt

The Ekko Shop, 183 Main Highway, Otaki 5512

Upper Hutt Cossie Club, 11 Logan Street, Upper Hutt

Vibe, 3/222 Main Street, Upper Hutt

Victoriana Florist, 498 Fergusson Drive, Trentham, Upper Hutt 5018

Zeal Group Ltd T/A Cartridge World, 191a Main Street, Upper Hutt

Wellington

Arapaki Library, 12 Manners Street, Wellington

BoostNest, 15 Edward Street, Te Aro, Wellington 6011 (open for cardholders Monday to Friday, 9.30am - 4,30pm)

Brooklyn Library, Corner Harrison and Cleveland Streets, Brooklyn, Wellington

Churton Park Community Centre, 75 Lakewood Avenue, Churton Park, Wellington 6037

Cummings Park Library, 1 Ottawa Road, Ngaio 6035

House of Travel Hunter St CBD, 12 Hunter Street, Wellington

Island Bay Library, 167 The Parade, Island Bay, Wellington 6023

Johnsonville Library @ Waitohi Community Hub, 34 Moorefield Road, Johnsonville, Wellington 6037

Karori Library, 247 Karori Road, Karori 6012

Khandallah Library, 8 Ganges Road, Khandallah 6035

Kilbirnie Library, 101 Kilbirnie Crescent, Kilbirnie, Wellington 6022

Linden Community Centre, 10 Linden Avenue, Tawa, Wellington 5028

Mervyn Kemp (Tawa) Library, 158 Main Road, Tawa, Wellington 5028

Miramar Library, 68 Miramar Avenue, Miramar, Wellington 6022

Mt Vic Hub, 24e Elizabeth St, Mt Victoria, Wellington 6011

National Storage Newtown, 84-92 Adelaide Road, Newtown, Wellington 6021 (Hours: 8am-5pm Mon to Fri, and 9am-2pm Saturday's)

National Storage Ngauranga, 5/7 Lower Tyers Road, Ngauranga, Wellington 6035 (Hours: 8am-5pm Mon to Fri, and 9am-2pm Saturday's)

Newlands Community Centre, 9 Batchelor Street, Newlands, Wellington 6037

Newtown Library, 13 Constable Street, Newtown, Wellington 6021

Silbery Roofing Thorndon, 194 Thorndon Quay, Pipitea, Wellington 6011

Tawa Community Centre, 5 Cambridge St, Tawa, Wellington 5028

Te Awe Library, 29b Brandon Street, Wellington

Te Pokapu Hapori, 105 Manners Street, Te Aro, Wellington 6011 (Monday to Friday from 10-6pm)

Wadestown Library, Corner Moorhouse Street and Lennel Road, Wadestown, Wellington

SOUTH ISLAND
Nelson
Tasman
Malborough
West Coast
Canterbury
Ashburton District

Leo's Bar & Grill, 90-92 Harrison Street, Allenton, Ashburton 7700 - Hours: Wed 4-10pm, Thurs-Sun 12-10pm, Mon-Tues Closed.

Methven Travel (2007) Ltd, 160 Main Street, Methven 7730 - Hours: 10am to 4pm - Monday to Friday

Mt Hutt Ski Area, Mt Hutt Station Road, Mt Hutt, Methven 7730

Smith Attachments Ltd, 21 McNally Street, Ashburton 7700 - Hours: 8am-4pm

Christchurch

Alice in Putterland, 60 Brighton Mall, New Brighton, Christchurch 8061

Avonhead Automotive Ltd, 126 Racecourse Road, Upper Riccarton

Bangers 'n' Bacon, 4/1004 Ferry Rd, Ferrymead 8023

Barefoot Beauty, 61 Brookwater Avenue, Northwood, Christchurch

Bunrunners, 87C Fitzgerald Ave, Christchurch 8011

Christchurch Gondola, 10 Bridle Path Road, Heathcote Valley, Christchurch 8022

Christchurch Tram, 109 Worcester Street, Christchurch Central City, Christchurch 8011

Fraemohs Homes, 1200 Main North Road, Kainga, Christchurch 8083 (Hours: Monday to Friday 9am – 5pm)

FUSH Wigram, 104 The Runway, Wigram, Christchurch 8042

James Bull Locksmiths, 45 Sandyford Street, Sydenham, Christchurch 8023 (Hours: Mon-Thurs 8-5pm; Fri 8-4.30pm; Sat 9-3pm; Sun and Pub Hols Closed)

Jurassic Adventure Mini Golf, 239A Opawa Road, Hillsborough, Christchurch 8022

Linwood Library, First Floor, Eastgate Mall, Buckleys Road, Christchurch 8062

Lyttelton Arms, 15a London Street, Lyttelton 8082

Mobil Creyeke, 106/108 Creyke Road, Ilam, Christchurch 8041

Mobil Yaldhurst, 39 West Coast Road, Yaldhurst, Christchurch 8042

National Storage Belfast, 1259 Main North Road, Kainga, Christchurch 8083 (Hours: 9am-2pm Mon to Fri)

National Storage Hillsborough, 89 Garlands Road, Hillsborough, Christchurch 8042 (Hours: 8am-5pm Mon to Fri, and 9am-2pm Saturday's)

National Storage Hornby, 46 Hickory Place, Hornby, Christchurch 8042 (Hours: 8am-5pm Mon to Fri, and 9am-2pm Saturday's)

National Storage Redwood, 87 Barnes Road, Casebrook, Christchurch 8051 (Hours: 8am-5pm Mon to Fri, and 9am-2pm Saturday's)

Orbit World Travel Christchurch, 255 St Asaph Street, Christchurch Central

Paul Hussey Panel Beaters, 345 Blenheim Road, Middleton, Christchurch 8041

Physiosouth CityFitness Moorhouse, Level 2, Harvey Norman Building , 250 Moorhouse Avenue, Sydenham, Christchurch 8011

Physiosouth Colombo, 167 Colombo Street, Sydenham, Christchurch 8023

Physiosouth Kaiapoi, Unit 6/77 Hilton Street, Kaiapoi 7630

Physiosouth Linwood, 20 Buckleys Road (Upstairs in the Linwood Medical Centre, Linwood, Christchurch 8062

Physiosouth Moorhouse Medical, 3 Pilgrim Place, Sydenham, Christchurch 8011

Physiosouth Northwood, 1 Radcliffe Road, Belfast, Christchurch 8051

Physiosouth Pegasus, 53 Pegasus Main Street, Pegasus 7691

Physiosouth Pioneer, 75 Lyttelton Street (inside Pioneer Recreation Centre), Somerfield, Christchurch 8024

Physiosouth Riccarton, 4 Yaldhurst Road, Upper Riccarton, Christchurch 8041

Uprising Bouldering, 199 Ferry Road, Waltham, Christchurch 8011

Willowbank Wildlife Reserve, 60 Hussey Road, Northwood, Christchurch 8051

Hurunui District

Amberley Pre and Prep, 3 Douglas road, Amberley

Amuri Community Library & Service Centre, Amuri Area School, School Rd, Culverden 7392

Beauty & You, 133 Carters Rd, Brackenfields Complex, Amberley 7410

Cheviot Library & Service Centre, 39 Hall Street, Cheviot 7310

Hanmer Springs Adventure Centre, 20 Conical Hill Road, Hanmer Springs 7334

Hanmer Springs Forest Camp, 243 Jollies Pass Road, Hanmer Springs 7334

Hanmer Springs Library & Service Centre, cnr Amuri Ave and Cheltenham Streets, Hanmer Springs 7334

Hurunui District Council, 66 Carters Rd, Amberley 7410

Hurunui Memorial Library, 111 Carters Rd, SH 1, Amberley 7410

Leithfield Beach Holiday Park, 18 Lucas Drive, Leithfield Beach, Leithfield 7446

NC Equipment, 53 Carters Road, Amberley 7410

Red Post Cafe, 2 Highfield Street, Culverden 7392

Terrace Edge, 328 Georges Road, Waipara Valley, RD2, Amberley

The Powerhouse Café, 8 Jacks Pass road Hanmer Springs

Waiau Tavern, 18 Lyndon st, Waiau 7332

Waipara Hills Wine, 780 Glasnevin Road | SH 1, Waipara 7483

Waipara Springs Winery & Café, 409 Omihi Rd, Waipara 7483

Kaikoura District

Mackenzie District

Musterers Hut and Cafe, 20 Ruataniwha Road, Twizel, Mackenzie Basin 7901

Petronella's Gallery and Bookstore, Shop 8 Rapuwai Lane, SH8, Lake Tekapo

Selwyn District

Abi's Natural Horsemanship, Court Road, Lincoln 7672

Brenna Sincock Hearing, Shop 40 Rolleston Square, 9 Masefield Drive, Rolleston 7614 - Our clinic is in between The Warehouse and Noel Leeming stores; Hours: Monday to Friday 8.30 to 5pm

Caci Rolleston, Shop 39, Rolleston Square, 9 Masefield Dr, Rolleston 7614 (Hours: Tues 10-7pm; Wed 9-6pm; Thur 10-8pm; Fri 9-6pm; Sat 9-1pm)

DUET, Shop 3, 9 Gerald Street, Lincoln, Christchurch (Hours: Mon - Fri 9.30am-5.30pm; Sat - Sun 10am-4pm)

Dunsandel Cafe and Store, 7 Kanes Road, Dunsandel 7657

Harcourts Lincoln, 6 Gerald Street, Lincoln 7608 (Hours: Mon-Fri 8.30am - 5pm)

Hello Dolly Boutique, 86 High Street, Leeston 7632

Lakeland Art Gallery, 80 High Street, Leeston 7632

National Storage Rolleston, 55 Link Road, Rolleston, Christchurch 7614 (Hours: 8am-5pm Mon to Fri, and 9am-2pm Saturday's)

Office of Nicola Grigg, MP for Selwyn, Shop 34, Rolleston Square, Rolleston 7614 (Hours: Mon to Fri, 10am-4pm)

Robert Harris Cafe - Rolleston, Shop 2, 76 Rolleston Dr, Rolleston 7614 (Hours: Mon to Fri 6.30am-4pm, Sat & Sun 7.30am-4pm)

Timaru District

Property Brokers, 1 Talbot St, Geraldine 7930

Waimakariri District

ShedBoss Christchurch, 308 Flaxton Rd, Rangiora 7400

Waimate District

Waitaki District
Otago
Central Otago District

Otago Community Hospice, 13 Ennis St, Alexandra

Otago Community Hospice, 2B The Mall, Cromwell

Clutha District

Milton Night'n Day, 24 Union street, Milton, South Otago 9012

Otago Community Hospice, 77 Union Street, Milton

Dunedin City

Antidote North Pharmacy, 15 St David St, Dunedin North 9016

Gastroenterology Otago Ltd, 72 Newington Ave, Dunedin 9012

Modaks Espresso in Dunedin, 337-339 George St, Dunedin 9016

National Party Dunedin Office, 333 Princes Street, Dunedin - Michael Woodhouse

National Storage Kaikorai, 237 Kaikorai Valley Road, Bradford, Dunedin 9011 (Hours: 8am-5pm Mon to Fri, and 9am-2pm Saturday's)

Nova Cafe, 29 The Octagon, Dunedin

Olveston Historic Home, 42 Royal Terrace, Dunedin

Otago Community Hospice, 127 Vogel St, Dunedin

Otago Community Hospice, 172 Gordon Road, Mosgiel

Otago Museum, 419 Great King Street North, North Dunedin 9016

Torpedo7, 205 Andersons Bay Rd, Dunedin 9012

Woof! Limited, 368 Moray Place (corner Lower Stuart), Ōtepoti, Dunedin 9016

Queenstown-Lakes District

Laryn Allied Health, 18 McBride St, Frankton, Queenstown 9300

Shotover Jet, 3 Arthurs Point Road, Arthurs Point, Queenstown 9371

Waitaki District

Otago Community Hospice, 343 Thames Highway, Oamaru
Southland