OUR AMBASSADORS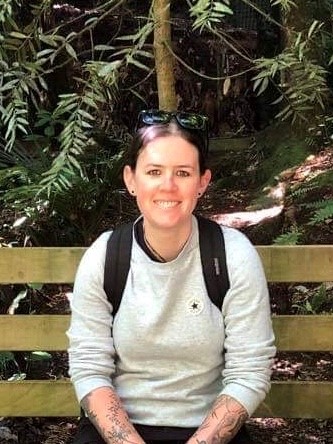 Rebecca (Becs) Parker
Student & Ambassador
Becs was appointed as the first ambassador for Crohn's and Colitis NZ by Lady Janine Mateparae in October 2015 at Government House. She was diagnosed with Crohn's Disease in January 2010; and her younger brother diagnosed 5 years later. Having previously spent 8 years in the Police, Becs is now embarking on a new journey and completing a Bachelor of Sport and Recreation. Once completed she plans to help people lead active and healthy lives.
Becs enjoys listening to music, being in nature, spending time with family and getting tattoos. She is married and has two young children.
To learn more about Becs' story watch the video interview here https://youtu.be/RFEeMzfeoCg
Nicole Thornton



Student & Ambassador
Nicole Thornton is a resident in Lower Hutt and is well-known throughout the IBD community.
In 2017, Nicole petitioned the government, at just 12 years of age, to mandate access to workplace toilets when a public toilet is not available for people with medical conditions.
She continues to actively lobby Members of Parliament, has testified in front of the Health Select Committee, was a finalist in the 2021 Kiwibank New Zealander of the Year, Local Hero Award and was recently awarded with a certificate of appreciation for community services by Lower Hutt Mayor, Campbell Barry, for the work with her campaign.
In December 2020 Nicole launched her "I Can't Wait" campaign asking workplaces to display a sticker in their windows indicating that their business honours CCNZ's "I Can't Wait" cards. The cards are available to any person with a medical condition who might urgently need access to a toilet. Her goal is to see these stickers in business windows in every city and town throughout New Zealand.
Nicole, now 18, has attended all seven Camp Purple's to date, enjoys working out and riding her dirt bike and is excited to carry her role as ambassador for Crohn's and Colitis NZ and her "I Can't Wait" campaign down with her to Dunedin, where she has just been accepted into the University of Otago Nursing program.

Charlotte Livingstone
Student & Youth Ambassador
Hi. Let me introduce myself. I am Charlotte Livingstone and I am a nearly 16-year-old living in Ashburton, Canterbury. I have Crohn's disease, but that is not the main thing about me, because I never want that to be the main thing about me. Unfortunately, sometimes it feels as though it is, and I wish it would go away.
The main thing I love to do is to be on stage, singing, dancing and acting. I have been doing it regularly since I was quite little. I have had the chance to play some pretty cool roles like Sebastian the Crab, Gingie the Gingerbread Man, Jacques the mouse, and Puck in Midsummer Night's Dream. This year I will get to be in an adult production of The Wizard of Oz, which will be awesome.
I have two older brothers, who have now left home, so I get to rule the roost, have control over the remote, and get the bathroom all to myself. I love the beach, listening to music, and hanging with my friends.
Nice to meet you.