STUDIES AND REPORTS
REDUCING THE GROWING BURDEN OF IBD IN NEW ZEALAND
In November Crohn's and Colitis New Zealand launched new research on 'Reducing the Growing Burden of Inflammatory Bowel Disease in New Zealand'.

We commissioned this report to identify and shed light on the scale and personal, social and economic costs of IBD in New Zealand, and to make recommendations on how this burden might be reduced.
To download a copy of the research report click here.

This study was made possible through an unrestricted education grant by Janssen New Zealand.
ATTENTION ALL IBD PATIENTS WHO HAVE EVER BEEN TREATED WITH A BIOLOGIC* MEDICATION!
(*Remicade, infliximab, Humira, adalimumab, Stelara, ustekinimab, Entyvio, vedolizumab)
CCNZ is conducting an important online survey. The survey should take no longer than 10 to 15 minutes of your time to complete.
The purpose of the survey is to evaluate the quality of life of people with IBD who are being treated with or have been treated in the past with a biologic medication.
Please take the time to click on the link below for further information and to access the survey.
Thanks to all that participate in this important study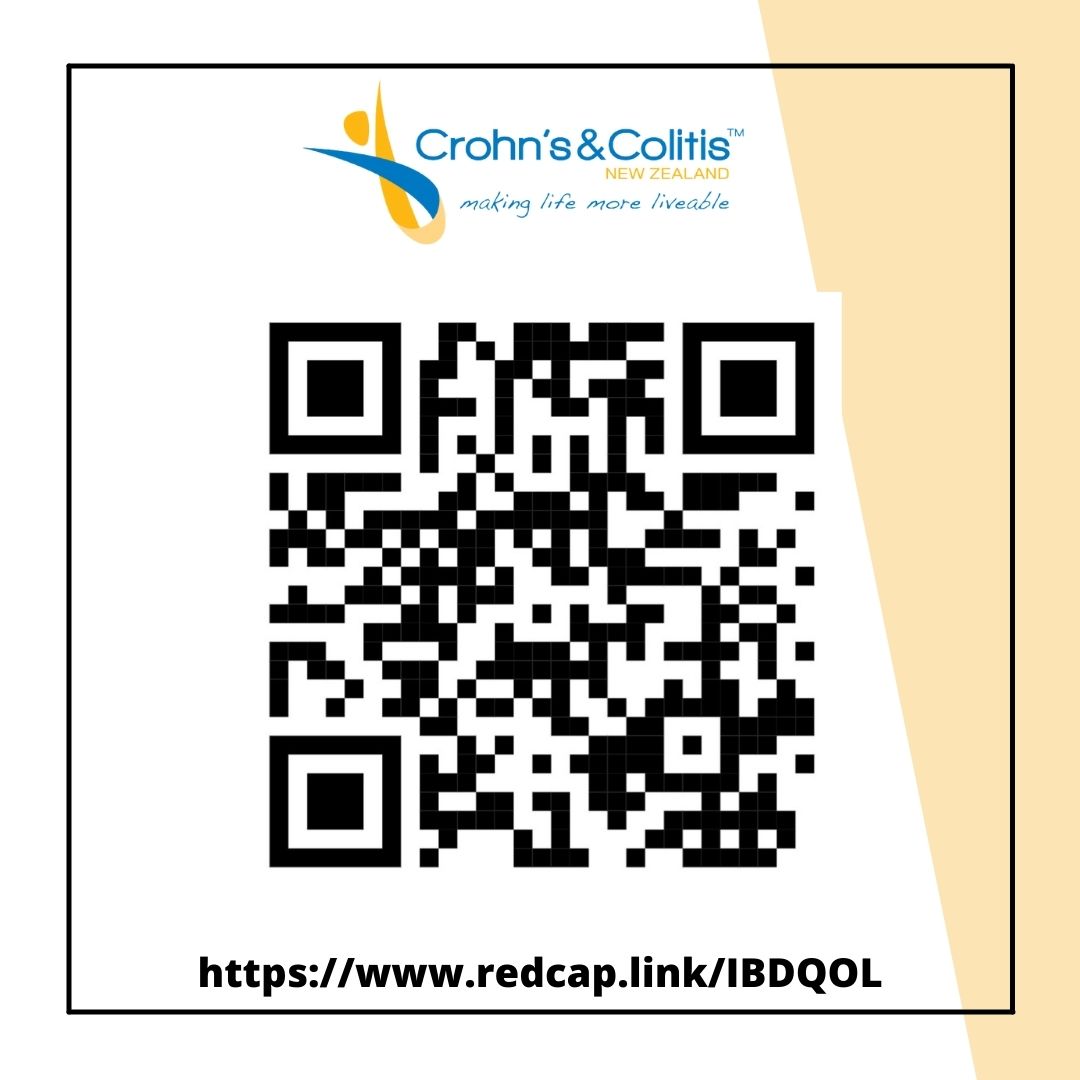 ATTITUDES TOWARDS AND USE OF CANNABIS IN NEW ZEALAND PATIENTS WITH INFLAMMATORY BOWEL DISEASE: AN EXPLORATORY STUDY
Inflammatory bowel disease (IBD) includes a group of chronic diseases of the gastrointestinal tract, such as Crohn's disease (CD) and ulcerative colitis (UC). Although there is currently no evidence supporting a disease-modifying effect of cannabis on IBD, there are plausible biological mechanisms by which it could improve symptoms. Currently in New Zealand, cannabis is not an approved medication for IBD, and there is little research assessing whether people are using cannabis to try and manage their IBD.
The aim was to assess the use of and attitudes towards cannabis use (medicinal and recreational) by people with IBD in New Zealand.
Kerry Appleton, Elizabeth Whittaker, Zarife Cohen, Heather May Rhodes, Cathy Dunn, Siobhan Murphy, Mabel Gaastra, Anna Galletly, Sean Dougherty, Andrew Haren, Nitin Sukumaran, Kristina Aluzaite, John D Dockerty, Robin M Turner, Michael Schultz.
To read the results of this study please click here.
PATIENT EXPERIENCE OF DIETETIC CARE IN NEW ZEALAND
Nutrition is an important aspect of the treatment and management of IBD. With growing emphasis on dietary therapies in IBD, and the need for diet recommendations to be individualised for each person's circumstances, it is important that dietitians are involved in the multidisciplinary team caring for IBD patients. Anecdotal reports from around New Zealand are that patient access to dietitians is not consistent, but so far there has been no formal research undertaken to assess this.

Nicky McCarthy is a dietitian from Central Otago who is researching Dietetic care in IBD in New Zealand. The research project is supervised by Dr Catherine Wall and Prof Michael Schultz. As part of the project, she sent out a research survey to NZ IBD patients in March/April 2020 to investigate patient experience of dietetic care. Responses are summarized here.
CROHN'S & COLITIS SUPPORT GROUP SURVEY RESULTS
An online survey of the IBD community in New Zealand was carried out from June to July 2020, shared on social media. Data was cleaned and analysed in October 2020.
Over the past year, CCNZ has been meeting with our volunteer support group coordinators to find out what they need in order to better support their communities. One of the things support groups needed was more information from the community on what they would like from them.
The survey had 10 questions, which included whether people had been to a support group event and what they thought about it, and what they would like to see from their support group in future. There were also some demographic questions regarding people's age and whereabouts in New Zealand they lived, and a space for their email address in case they wanted to volunteer or keep in contact with their support group. No identifying information is published in this report.
Survey findings are published here.
INFLAMMATORY BOWEL DISEASE, NZ PATIENT JOURNEY
Atlantis Healthcare were asked by Janssen-Cilag (a pharmaceutical company) to talk to people living with IBD about their experiences.
Atlantis Healthcare talked to people living with IBD and the people who care for them – carers; gastroenterologists; nurses; a surgeon; a dietitian; and people from Crohn's and Colitis New Zealand and the Ostomy Society
From this we tried to capture what it's like to live with IBD from a medical; physical; psychological and social perspective. This is called a Patient Journey
IBD AND CHILDREN
Professor Andrew Day from Christchurch is one of New Zealand's leading paediatric gastroenterologists. He gave a presentation to Crohn's and Colitis Wellington in May. This video clip is 57 minutes long, so please allow plenty of time to watch it.
A HIDDEN TORMENTOR
Associate Professor Richard Gearry and his team presented their research findings at a meeting in Nelson in February 2013.
His research indicates that Nelson has one of the highest rates of Crohn's disease in the world. Read more here.
INTERNATIONAL SPEAKER IN NELSON
Dr Corey A. Siegel is the Director of the Inflammatory Bowel Disease (IBD) Center at the Dartmouth-Hitchcock Medical Center in Lebanon, New Hampshire, and an Assistant Professor of Medicine and of The Dartmouth Institute for Health Policy and Clinical Practice at Dartmouth Medical School.
He was recently in New Zealand and spoke to over 100 Nelsonian's at the local Crohn's and Colitis Support Group meeting, together with Professor Richard Gearry of Christchurch.
Dr Siegel gave an excellent presentation on Balancing the Benefits and Risks of IBD Treatment.
Dr Gearry's presentation IBD in NZ - Nelson Next on the Research Radar, outlined his plans on conducting research in Nelson this coming summer.
2012 ECCO CONFERENCE, BARCELONA, SPAIN
Dr John Wyeth attended the ECCO conference in Barcelona and is seen here presenting an overview of the meeting to the Wellington CCSG.
IMPACT REPORT RESULTS
In February 2012, board member Baubre Murray attended the ECCO conference in Barcelona. Here she presents the findings of the European IMPACT survey at the Wellington CCSG meeting held in April.
IBD RESEARCH REVIEW