Living with IBD Handbook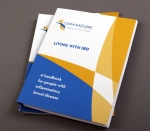 Living with IBD - a handbook for people with inflammatory bowel disease is proudly sponsored by Ferring Pharmaceuticals, a division of Pharmco (NZ) Ltd.
This handbook was developed by physcians and other health professionals in New Zealand, and provides evidence based information for people affected by Crohn's disease and ulcerative colitis.
We would like to thank the people who told us their stories, making this handbook relevant to all those who read it.