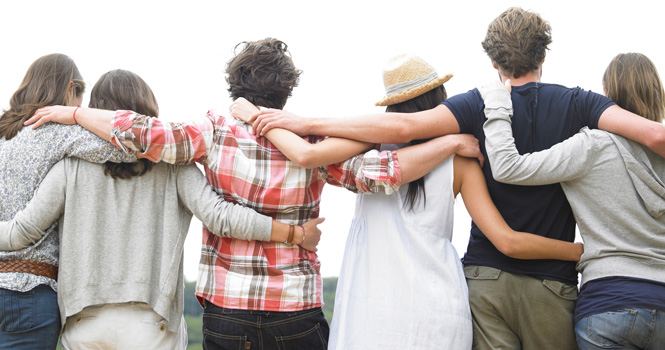 BURDEN OF DISEASE REPORT
Reducing the Growing Burden of
Inflammatory Bowel Disease
in New Zealand
Our Vision
We will transform the lives of children, young people, families and all those affected by IBD and will lead these communities to increasing connectedness.
Crohn's & Colitis New Zealand is a growth focused and sustainable organisation which innovates and is responsive to opportunities to optimise and support the well-being of those affected by IBD.
Our Mission
We make lives more liveable for everyone in New Zealand affected by IBD.
We offer information channels, education and support networks and provide a structure around which people can unite to raise awareness of these diseases.
We seek to enhance their capability to live in a positive and hope-filled environment which will contribute to their happiness and help them feel empowered to maximise their potential and realise their life goals.

Pharmac are announcing that they have made the decision to widen access to adalimumab and fund Amgevita, a citrate-free biosimilar adalimumab.
Pharmac review - want to read our submission?
Living with IBD - seminar & workshop.
Want to find out more? Want to download the slides from the speakers?.... Click here
REGISTRATIONS FOR 2021 - NOW CLOSED!
We Can't Wait
Fund ustekinumab for New Zealanders with severe Crohn's and ulcerative colitis.
Over 20,000 New Zealanders suffer from Crohn's disease and ulcerative colitis, one of the highest per capita rates in the world. Despite this, NZ doesn't provide funding for this standard, mainstream medication, funded in Australia and throughout the Western world. This medication has the potential to offer those with the most aggressive disease a life without chronic pain, bloody diarrhoea, repeated hospitalisations and life-altering surgeries, and the hope for a fulfilling work and family life.
The petition currently sits with the petitions committee for their decision. #w

ecantwait


The CCNZ toilet card clearly states that the holder has a medical condition and needs to use a toilet quickly. Although it does not guarantee you access to a toilet, most places you visit will be willing to help you. The card is a small, credit sized card, designed to fit easily into your purse, wallet or pocket. You can show the card when you're out shopping and socialising and it may help you gain access to a toilet.
If you would like a "I Cant Wait" toilet card please email us and we will send out an application form for your medical provider to complete or download your application here.


Do you want to support "I Can't Wait!" cardholders?
Placing a CCNZ sticker in the window of your business that you recognise the "I Can't Wait" card can truly change lives.
Honouring the card allows people with Crohn's disease, ulcerative colitis and other medical condition to use your facilities in the event a cardholder needs one urgently.
This simple act of kindness gives people with medical conditions the confidence to leave home without the fear of having an accident in public. It gives them the opportunity to do what most of us take for granted: the opportunity to leave home, to shop, to meets friends, and to live a normal life.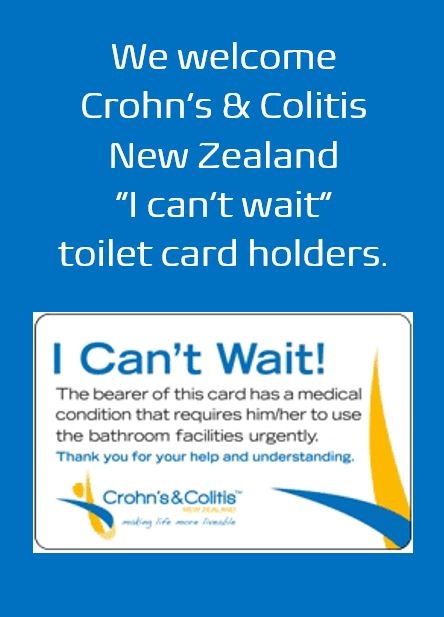 Holders of the "I Can't Wait" card have gone through the process of applying for the card which requires their doctor's documentation that they have a condition for which the card is necessary.
CCNZ recognises and publicises participating business on our webpage and social media platforms. Let people know that your business is making a difference in the lives of members of your community. Click here to find out who they are.

For more information please email us.
Want to know what to do if someone presents this card to you? Download our educational sheet here.