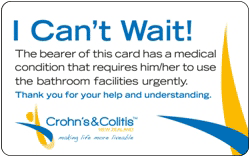 The CCNZ toilet card clearly states that the holder has a medical condition and needs to use a toilet quickly. Although it does not guarantee you access to a toilet, most places you visit will be willing to help you. The card is a small, credit sized card, designed to fit easily into your purse, wallet or pocket. You can show the card when you're out shopping and socialising and it may help you gain access to a toilet.
If you would like a "I Cant Wait!" toilet card please email us and we will send an application form for your medical provider to fill out for you or you can download an application form here.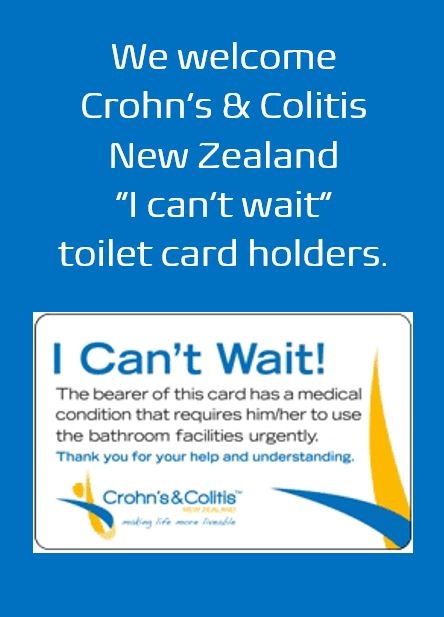 Do you want to support "I Can't Wait!" cardholders?
Placing a CCNZ sticker in the window of your business that you recognise the "I Can't Wait" card can truly change lives.
Honouring the card allows people with Crohn's disease, ulcerative colitis and other medical condition to use your facilities in the event a cardholder needs one urgently.
This simple act of kindness gives people with medical conditions the confidence to leave home without the fear of having an accident in public. It gives them the opportunity to do what most of us take for granted: the opportunity to leave home, to shop, to meets friends, and to live a normal life.
Holders of the "I Can't Wait" card have gone through the process of applying for the card which requires their doctor's documentation that they have a condition for which the card is necessary.
CCNZ recognises and publicises participating business on our webpage and social media platforms. Let people know that your business is making a difference in the lives of members of your community.

For more information please email us.
Want to know what to do if someone presents this card to you? Download our educational sheet here.