FAQ'S FOR PARENTS
CAMP PURPLE LIVE 2023

WHERE WILL THE CAMP BE HELD IN 2023?
This year the camp will be at Living Springs in Lyttleton, Christchurch. It is a wonderful facility and you can view the camp at: https://livingsprings.co.nz/
WHEN WILL THE CAMP BE HELD?
21st - 26th January 2023, please consider this if you have family holidays and children returning to school at this time.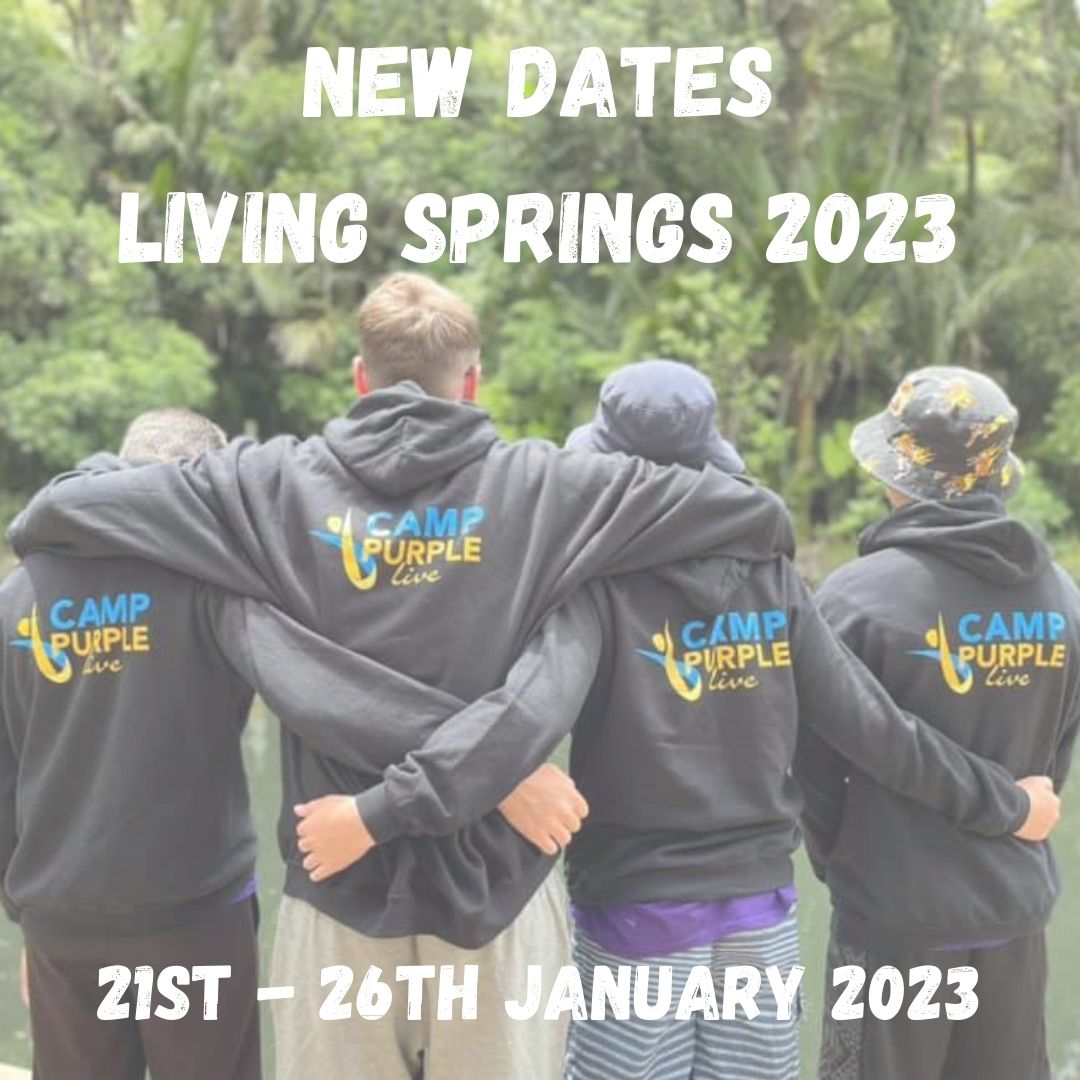 HOW MUCH WILL IT COST?
There is a registration fee of $50 per camper to cover CCNZ's administrative costs. All other costs, including airfare, will be covered by CCNZ, through our fundraising efforts and our generous sponsors. We will email you an invoice for the $50 registration fee once places have been confirmed. The registration fee can be waived if it will cause financial hardship. If you need to discuss getting your registration fee waived, please email Nicola at campenquiries@crohnsandcolitis.org.nz
If you wish to make donations over and above the registration fee, please do this on our Give-A-Little page https://givealittle.co.nz/cause/camp-purple-live-2022 The actual cost to send a child to the six day camp is approximately $1500.00
Please note some of you have already paid your fees for the Camp that was meant to happen in January 2022. If you have not had this money reimbursed we will carry these funds over to 2023.
MY CHILD IS ON MEDICATION. HOW WILL I BE SURE HE/SHE GETS THEM AS REQUIRED?
All medications will be collected at the start of camp and dispensed and recorded by our medical staff. Do not send any loose or un-labelled medication to camp. Medications need to be sent to camp in their original bottles or packaging. If medication is received by our medical team, not in its original packaging, it will not be dispensed. If your child has supplementary drinks, you will need to provide these as well.
MY CHILD IS ON INFLIXIMAB (REMICADE). HOW WILL THIS BE HANDLED?
We will not have facilities to give IV infusions at camp, but will work with your regular doctor to plan the infusion just before the start of camp. Injections of adalimumab (Humira) will be given under the supervision of our nurses.
WHAT HAPPENS IF MY CHILD GETS ILL DURING CAMP?
The camp is staffed by four gastroenterologists and six IBD/Emergency nurses who will be on site and available 24/7. We have direct access to local facilities, including Canterbury DHB. All efforts will be made to contact parents immediately if there is a serious medical issue.
MY CHILD IS ON A RESTRICTED OR SPECIAL DIET, HOW WILL THIS BE HANDLED?
We can cater for all dietary restrictions and special diets, eg gluten-free, dairy-free, vegetarian, vegan, and we can accommodate campers on supplemental drinks.
Our menus do not contain nuts, whole seeds or spicy foods. If you would like to discuss the dietary requirements of your child, please email campenquiries@crohnsandcolitis.org.nz
WHAT IF MY CHILD CANNOT PARTICIPATE IN ALL THE ACTIVITIES?
Children are continually reminded to talk to their camp leader if they are not feeling up to participating in a particular activity. All camp leaders have personal experience with IBD and are sensitive to the issues of our campers.
MY CHILD HAS NEVER BEEN AWAY FROM HOME. WHAT HAPPENS IF HE/SHE GETS HOMESICK?
Being away from home for the first time can be difficult for some children, but this experience fosters growth, self-confidence, and independence. Our staff has experience with dealing with this issue and each situation will be handled on an individual basis.
MY CHILD IS TRAVELLING WITHOUT THEIR PARENTS. HOW WILL THIS BE HANDLED?
If your child is 11 or under and on a flight without their own or other parents, volunteers, or older campers, they will be booked as an unaccompanied minor. You can get more information on how this works here: https://www.airnewzealand.co.nz/special-assistance-children-travelling-alone-airband
Most flights, to camp and home again, have a mixture of parents or volunteers, older campers and returning campers. There will be camp volunteers to meet parents and campers at each arrival.
On the flight home, volunteers will be asked to wait with campers until they have all been collected by parents. If a particular flight does not have a volunteer on it, there will be a camp volunteer stay with the campers until they go through the departure gate.
CAN MY CHILD BRING THEIR CELL PHONE OR OTHER ELECTRONIC DEVICES?
Cell phones and other electronic devices may be bought to camp, at your own risk. CCNZ will not take responsibility for any personal items that are stolen, lost or damaged while at camp.
Without the distraction of cell phones, campers bond with new friends and get the most out of the camp experience. All cell phones and other electronic devices will be collected at the start of activities and returned at certain times during camp i.e. free time.