IBD NURSING
THE ROLE OF THE IBD NURSE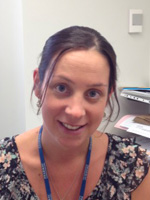 The role of the IBD nurse is to support patients with Crohn's or colitis. We have a helpline in which patients call and we respond on the days we are working. We deal with rapid assessments and deal with flares when they occur. We are an excellent advocate for the patients and discuss their treatment plans with the relevant consultant. We have our own clinics where patients can come and consult with us, discuss issues and we educate patients on their disease. We teach patients self injecting techniques and are there for ongoing support.
It is an important role which is increasing in its demand. We are very passionate about our roles and are here to make a different within the IBD world.
Lisa Griffiths
FIND AN IBD NURSE IN YOUR AREA

IBD NURSES INTERNATIONAL TRAVEL AWARD
Crohn's & Colitis New Zealand is appreciative of the resources and financial support provided by AbbVie to make the IBD Nurse International Travel Award, possible.
The grant is to provide an international travel grant up to NZD $5,000 to a nurse involved in the treatment and management of IBD patients, to attend a relevant international conference with a focus on Inflammatory Bowel Disease. The goal of the grant is to improve the quality of life of patients with IBD in New Zealand through the continuing education of IBD nurses practicing in New Zealand.
The recipient of the award will be announced at the NZ Annual Scientific Meeting of the Gastroenterology Society in November, by Crohn's & Colitis NZ and AbbVie.