TREATMENT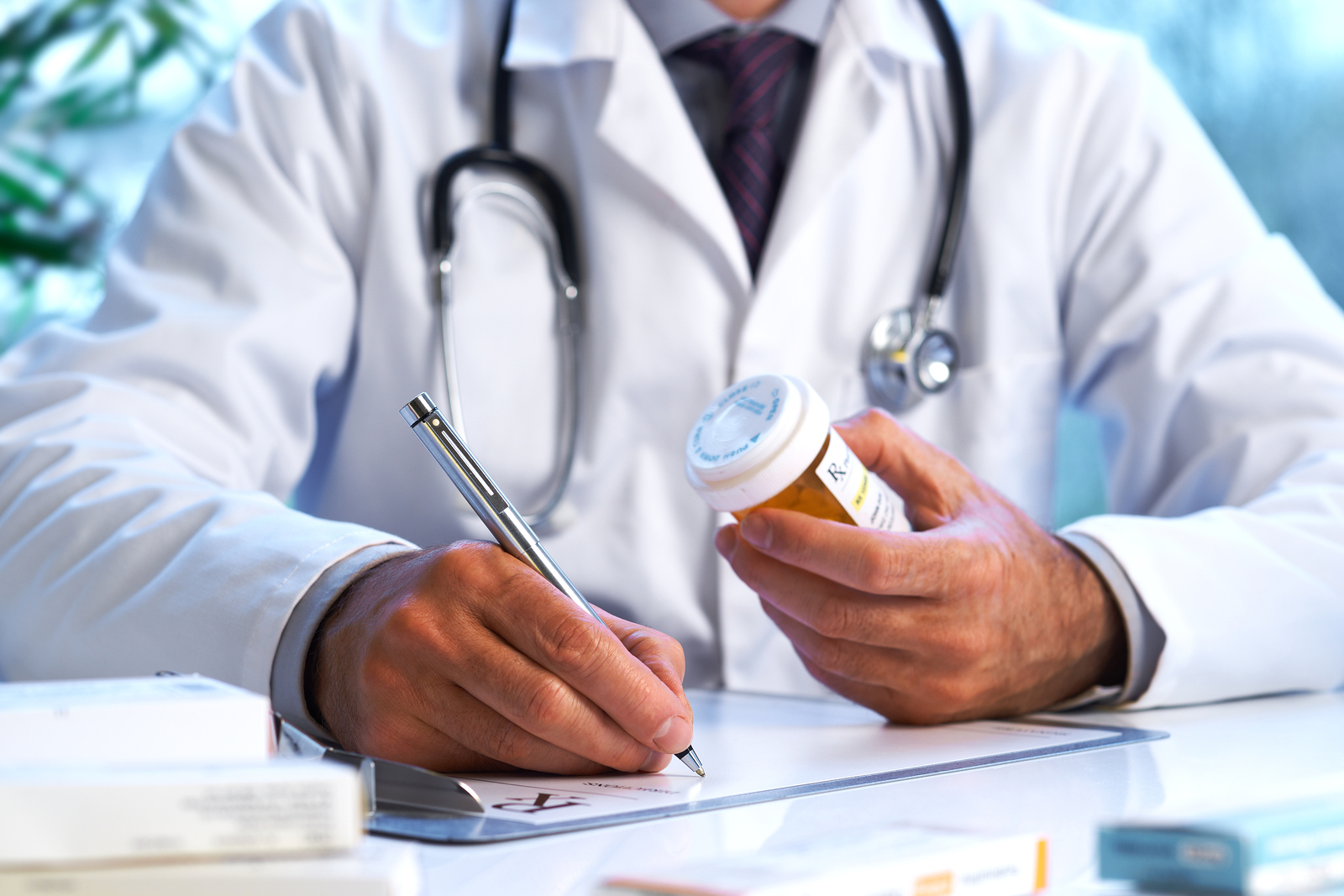 The major goals of treatment in IBD are:
to relieve symptoms

to achieve remission (absence of symptoms)

to maintain remission

to improve quality of life
Biosimilars Statement
Biosimilars are biologic therapies that are copies of currently approved biological medications (called "originator drugs") used to treat these diseases.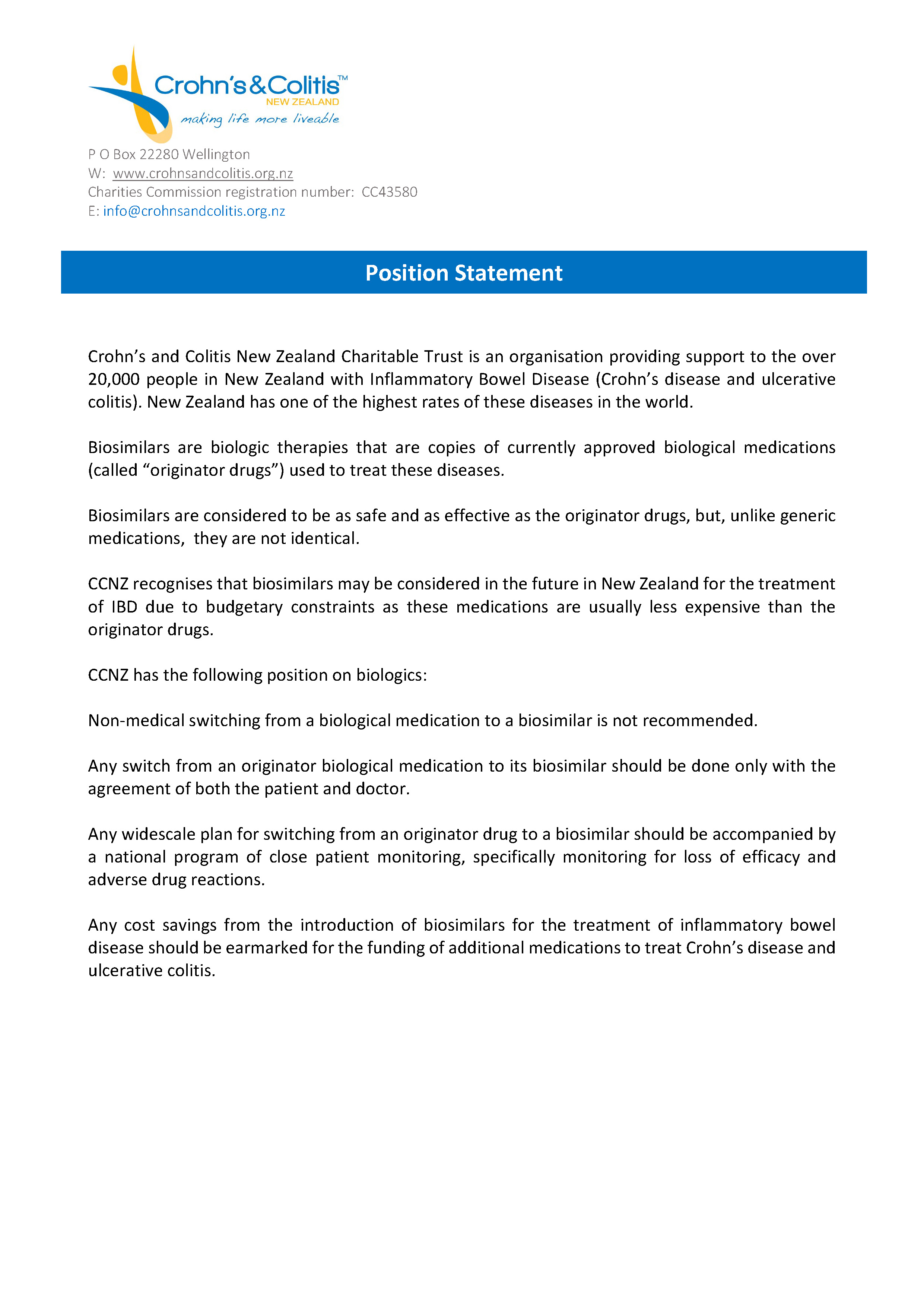 Biosimilars are considered to be as safe and as effective as the originator drugs, but, unlike generic medications, they are not identical.
CCNZ recognises that biosimilars may be considered in the future in New Zealand for the treatment of IBD due to budgetary constraints as these medications are usually less expensive than the originator drugs.
CCNZ has the following position on biologics:
Non-medical switching from a biological medication to a biosimilar is not recommended.
Any switch from an originator biological medication to its biosimilar should be done only with the agreement of both the patient and doctor.
Any widescale plan for switching from an originator drug to a biosimilar should be accompanied by a national program of close patient monitoring, specifically monitoring for loss of efficacy and adverse drug reactions.
Any cost savings from the introduction of biosimilars for the treatment of inflammatory bowel disease should be earmarked for the funding of additional medications to treat Crohn's disease and ulcerative colitis.
Medications
Medications are almost always the 'first line' treatment strategy in persons with IBD. They work by reducing the inflammation and allowing the intestines to heal.
At present, the medications used to treat inflammation in IBD belong to five main categories:
aminosalicylates
corticosteroids
immunomodulators
biological agents
antibiotics
Maintaining Treatment
Because IBD is a chronic condition, many people will need to take medications for long periods of time, either to bring the disease under control or to maintain remission once the symptoms have disappeared.
It's important to take your medications exactly as prescribed, even if you're feeling well.
Stopping your medication can result in a flare-up of symptoms or lead to other problems, sometimes even months later.
Always consult with your clinical team before stopping any medication.
Surgery
Over time, some people no longer respond to medications, while others may have extensive and severe disease that cannot be controlled by medications alone. In these cases, surgery may be the best option to lead a healthier and more active lifestyle.
Alternative Therapies
Ulcerative colitis and Crohn's disease are chronic, relapsing conditions and treatment can sometimes seem to be tedious, with unsatisfactory and disappointing results.
There are many alternative or complementary therapies to conventional medicine and you may be tempted to try some of these over the course of time.
Although some alternative therapies may possibly be helpful, many are not and may indeed be inappropriate - possibly harmful and almost certainly expensive.
If you wish to try any of these alternative therapies, we advise that you discuss it with your doctor first, and that you take care to seek treatment from a registered practitioner. Further information on some of the therapies which are available and which may offer help when conventional treatment has been disappointing, should be available on request.
More information is available in our Living with IBD : A handbook for people with inflammatory bowel disease.